Tag: Ferguson (page 2)
Several news outlets are reporting Eric Holder will announce the Justice Department's civil rights division will launch an investigation into actions of Ferguson police.
A 1994 federal law gave the civil rights division the authority to probe whether police departments are engaging in a "pattern or practice" of violating constitutional rights or federal rights. The law was enacted after the videotaped beating of African American motorist Rodney King by Los Angeles police officers.
...Federal investigators look at patterns of excessive force, complaints against officers, and department training to help officers avoid racial profiling and unnecessary use of force.
[More....]
(22 comments, 174 words in story) There's More :: Permalink :: Comments
Driving this afternoon and listening to CNN on Sirius, the main story was not ISIS or Syria, it was a new audio of the Michael Brown shooting that a passer-by captured on his cell phone while video-chatting with a woman. As he tells her how fine she looks, there are gunshots in the background. Either 10 or 11, depending on the guest they were interviewing. But all could clearly hear about a three second pause between the first round of five or six, and the final ones. They then replayed four interviews of eye witnesses, all of whom said there was a pause in the shooting as Brown turned around and put his hands up.
The significance? Unclear, since it's not been confirmed the tape is authentic or reliable, and obviously, the network doesn't have the original recording. The FBI has also been given a copy.
Here's a thread for all topics related to the Brown shooting.
(204 comments) Permalink :: Comments
Dr. Michael Baden, hired by Michael Brown family lawyer Benjamin Crump, has released his autopsy findings. Baden waived his fee and Crump paid his travel expenses.
AG Eric Holder has said the Brown family asked the Justice Department to conduct another autopsy. That's a lot of autopsy requests.
Baden says Brown was shot at least six times, although only 3 bullets were recovered from the body. He said he was shot in the head, the eye, and the arm. [More...]
(154 comments, 151 words in story) There's More :: Permalink :: Comments
Ferguson, Missouri is under a second night of curfew.
Attorney General Eric Holder ordered a third autopsy for Michael Brown, at the request of his family. The Washington Post says:
Holder's announcement, coming one day after revelations that additional FBI agents had been dispatched to Ferguson, was the latest signal that the federal civil rights investigation of Brown's death is escalating. The federal probe is running parallel to the state investigation, and federal officials had said they were deferring to state officials.
MO Gov. Jay Nixon took the airwaves today and among other things, criticized the release of the alleged robbery video, saying he hadn't known about it.
Highway Patrol officer Ron Johnson spoke at a rally today and addressing Brown's parents, said "I am sorry. I wear this uniform and I should say that I am sorry."
(29 comments) Permalink :: Comments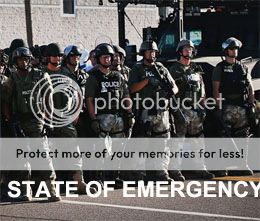 The Governor of Missouri has declared a state of emergency in Ferguson. A curfew is in effect until further notice.
The police brought this on themselves. They have bungled every opportunity to resolve public frustration. They are a walking public relations disaster, choosing the wrong path at every turn.
Today, the Justice Department said they asked the police not to release the security camera video from the alleged theft at Ferguson's Wine and Market. [More...]
(126 comments, 249 words in story) There's More :: Permalink :: Comments
Here is the transcript of President Obama's remarks today on the Yazidis, ISIS and Ferguson.
He said air strikes would continue in Iraq, but maintains there will be no boots on the ground.
Wherever we have capabilities and we can carry out effective missions like the one we carried out on Mount Sinjar without committing combat troops on the ground, we obviously feel a great urge to provide some humanitarian relief to the situation.
On Ferguson, he said the FBI will investigate the death of Michael Brown. As to last night's violence, he said while there are differing accounts: [More...]
(33 comments, 354 words in story) There's More :: Permalink :: Comments